Prices
Overview
Like other password managers, Sticky Password allows consumers to automatically store multiple robust passwords for any number of different accounts. Those passwords are stored in a centralized encrypted database; which can be accessed by the user with just one password.
This restricts the number of difficult passwords the user needs to remember while giving them watertight security across all the platforms and services that they use.
Sticky Password is available on a freemium basis, which is great. However, some of its more important features are restricted unless you pay for premium. This can be purchased for either a single year ($29.99) or with a lifetime account ($149.95). The image below reveals the features you are missing on the freemium version.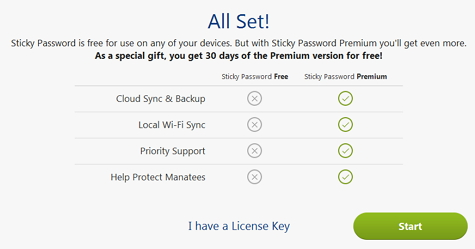 On the plus side, you do get a 30-day free trial of Premium, so even if you are skint you will be able to sync all your current passwords in that time. Beyond that - if you opt not to pay - you will have to enter them manually into each platform for them to be remembered.
If you're not sure on Sticky Password, check out our best password managers list for some alternatives.
Setup
Sticky Password comes with a 45 Mb installer that can be downloaded on its website. The executable file downloads quickly and is easy to install. It is also available for all four popular platforms, but not from Linux. The installer comes with a basic walkthrough that explains the app's key features. It also gives users the option to opt out of sharing anonymous data with the firm (on by default).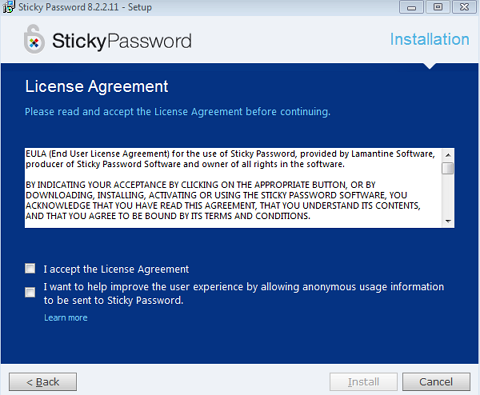 Having installed the software the user can either log in to their account or set up a new account. New users have the option to either pay for a premium account or use it for free (with a thirty-day trial of premium). Premium will set users back $26.95 per year.
Remember that the master password you enter during the initial phase will be the password that protects all your other passwords - so you must ensure it is strong and that you won't forget it. The software has a handy password strength meter at the bottom, and, although it will let you create a password that doesn't quite max out the meter - it is highly recommended that you do so.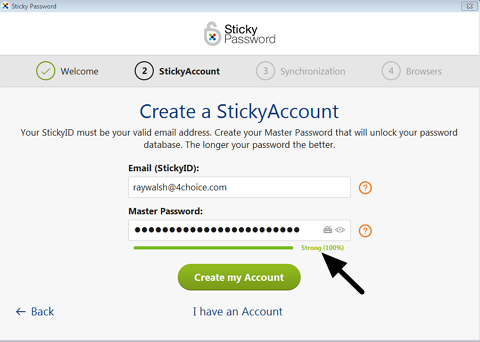 The software reminds you that the password will not be stored on company servers and that if you forget it - you will lose access to all your passwords. This may make some people nervous, but it is actually preferable in terms of security because it means that your master password is not hanging around on company servers where it could theoretically be hacked.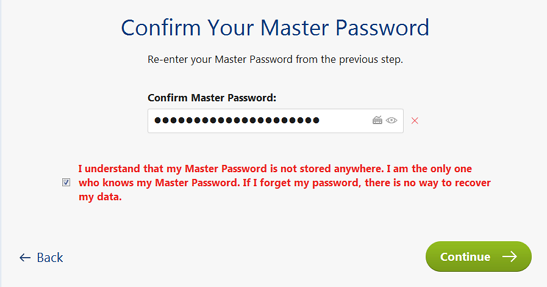 Finally, for those that prefer not to enter their master password every time, the option is also available to enable fingerprint authentication. This feature is available on both Android and iOS - as long as your device has a fingerprint scanner.
Sticky Password Features
As with other password managers, Sticky Passwords has a number of key features that allow users to quickly and effortlessly access their passwords. These features include:
Compatibility with Windows, Apple, Android, and iOS
The ability to automatically fill in forms to log into websites
Save new login details in real time as you create new accounts
Integration and compatibility with all popular browsers (16 in total)
Automatic password generation for speed and ease of use
Cloud Sync password synchronization across all devices
Wifi Sync password synchronization for added security
AES 256 encryption to store and transmit passwords securely
Two Factor Auth using Google authenticator
Fingerprint unlock (Android and iOS)
Password auto lock on a timer
Option to backup your database of passwords on the cloud (Premium only)
Secure memos feature
Identities feature for auto filling forms with names and addresses
Enabling cloud sync allows you to have your encrypted data seamlessly synced via Sticky Password's secure cloud servers. This lets you share your passwords to all your devices at all times. Even better, Sticky Password has a WiFi sync option that lets you share all your encrypted passwords to all your devices via your local network. This is excellent because it means your encrypted database never needs to go out to the cloud. In addition, the app does let you synchronize the passwords manually using a USB drive or SD card.
For the extremely paranoid, the option is there to elect to store all your encrypted data locally only on the device where the password manager is installed. This removes the possibility of the passwords being intercepted or subjected to a man in the middle attack. Though it is worth mentioning that even using Cloud Sync the passwords are synced using AES 256 encryption which is considered extremely robust, and, thus, should be secure.
The beauty of synching using one of the above methods is that you can quickly and easily install and login to the password manager on any of your devices with just the single master password.
Ease of Use
Sticky Password makes it easy to start protecting your accounts from the very moment it launches. Firstly, you are prompted with browser synchronization, which gets it ready to use on your preferred browsers.
On first impressions, we found both the feel and look of the Graphic User Interface to be excellent. This is definitely a password manager that could be recommended to a beginner or non-techy person.
Entering your login details and passwords is simple because all you have to do is log in to your accounts as you normally would. At that stage Sticky Password will ask you if you want to save the password; click yes and from that point on Sticky Password will do the hard work for you. If you do happen to enter the wrong password, it is not a problem - you can access the passwords from a tab in the software and update the password whenever you like.
If you decide to save your personal details to Sticky Password - such as your name and date of birth - these things will also be available via the autofill feature.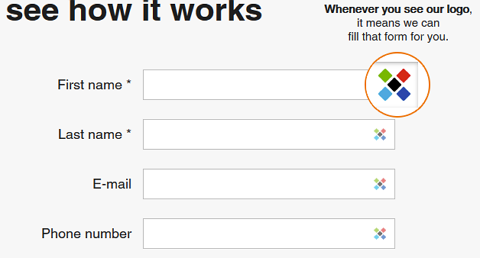 Sticky Password is also set up to work with apps such as Skype, and can be set up to remember your bank or card details so that you can auto-fill in payment forms online too. Obviously, if you do decide to store your payment details in the database, you will want to be absolutely certain that your master password is extremely robust.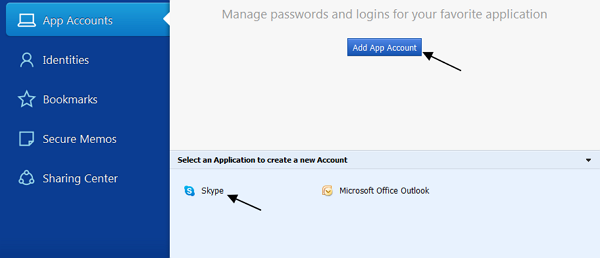 A secure memos feature is also included, which allows users to securely store random data. This might come in useful for people who want to store long cryptocurrency passphrases, for example. Below are some examples from the app of the kind of data you can save: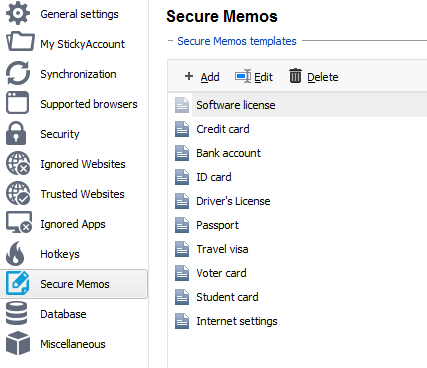 Mobile version
On mobile, we found the app to work extremely similarly to on a desktop. Plugins are available for a choice of browsers, and these allow Sticky Password to interact seamlessly. For other apps a "Floating Sticky Window" allows you to quickly access your passwords. However, it is worth noting that those passwords must be shared via the clipboard. This isn't ideal due to the existence of pastejacking malware designed to steal data from clipboards.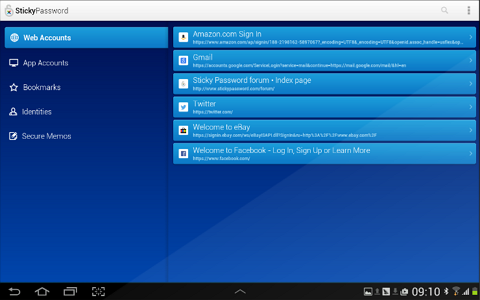 Synchronization
To test out synchronization we decided to try out the WiFi sync feature, as this is the one that most appeals to me for the combination of ease of use and security. Setting it up is easy, simply click on "Sync" in the bottom left of the client and select the option you prefer; we selected "Sync-local".

Next click on: Menu > Settings > Synchronization and put a black dot in "Wifi and other local networks." From there, as long as the software is already installed on both devices, they are both set to WiFi sync, and they are both connected to the local WiFi network - the sync is ready to happen. We found the sync to work with no issues whatsoever.
Auto-lock (recommended)
It is worth noting, that if you leave your computer or mobile device unattended - and you are still logged in to Sticky Password - anybody will be able to access your online accounts or bank details. To ensure that this doesn't happen you need to ensure that you lock the app in your system tray after each time you have used it.
If you are afraid that you might forget, Sticky Password has an excellent auto-lock feature that permits you to opt for the software to lock up and require the master password after a set period of time. We opted for the shortest period of time for the optimal level of security (1 minute of inactivity).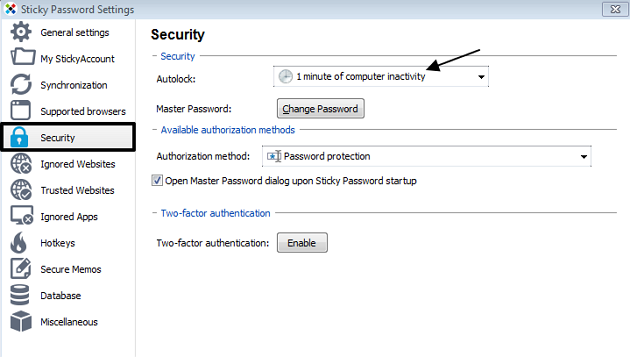 Security and Privacy
Sticky Password uses AES-256 encryption to both securely store passwords locally and transmit them via the cloud sync feature. Premium users that decide to make use of the cloud backup service for their database of passwords, will also have their database securely protected with military-grade AES-256 encryption standards.
For authentication, the master password produces a cryptographic key using PBKDF2 password hashing for PHP and 10,000 rounds of random salt. These are robust cryptographic fundamentals; which means that Sticky Password can be trusted in terms of privacy and security.
The lack of master password recovery, although nerve-racking for some people, is another robust security feature of this service. And, the ability to sync manually or via WiFi is an added plus.
Another nice security feature comes in the form of a built-in virtual keyboard that generates multiple mouse cursors to make it impossible for keyloggers and onlookers to see what password is being entered. We also like the baked-in ability to set up dual factor authentication - which is a feature missing on some of its competitors.
Customer support
The Sticky Password website is easy to navigate, and it is an excellent resource that provides a lot of valuable information and outstanding setup guides. We found pages for setting up the synchronization, for turning on auto lock, and for many other useful features.
A blog section on the website allows people to get updates on the latest developments and features. And, the firm also provides access to a 19 page PDF guide.
Although free users do not get access to any extra support, premium users are entitled to both live chat and email support. This is a nice extra for those consumers that decide to pay for the complete package.
Below you can see what it looks like logged into the member's area after we synchronized with the Firefox browser…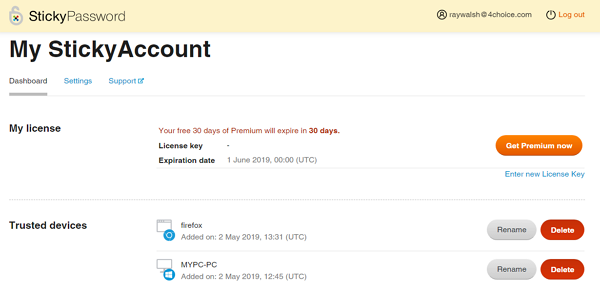 Conclusion
For the die-hard privacy and security fans out there, the fact that Sticky Password is not Open Source may be a turn-off. This is valid, because it is hard to verify the claims of security on the platform with it being closed source. On the other hand, Apple Mac is revered for security and privacy across its platforms and that is notorious for being closed source - so it doesn't have to be a deal breaker.
On the whole, we found this password manager to be well designed and easy to use. Synchronization across devices and browsers was effortless, which gives Sticky Password an edge over some of its competitors. The apps do everything you would expect from a top-of-the-range password manager, and we particularly liked the native ability to enable dual-factor authentification or the fingerprint reader.
This password manager is extremely easy to use, and is much easier than something like KeePass for example (which is many privacy-minded folks' favorite). For this reason, we consider this an excellent option for non-techy people or older citizens who are having trouble remembering passwords.
Of course, if the closed source nature of the software is a problem for you, you could opt for Bitwarden - another easy-to-use password manager that is open source. However, Sticky Password has been on the market for eight years now, and it does not appear to have had any issues with security thus far; which is a testament to the design.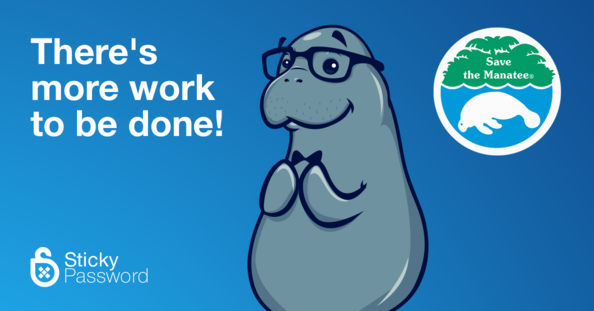 Finally, we should mention the Manatees. Sticky Password donates a proportion of every subscription payment to saving Manatees. This is an unusual and commendable company policy that is referenced by its Manatee marketing.
0 User Reviews
Leave a Review
Thanks for your review!