These are our recommended free cloud backups for privacy and security
Syncthing
Nextcloud
It is certainly a good idea to back up your data. While it is always prudent to have a backup on a physical external hard drive, cloud computing has made it incredibly simple to store data backups online. Free cloud backup services are limited in the space they offer users, however, if you don't have much data to back up or if you only need to back up critical data, free online backups are great.
The free online backup services listed in this article are recognized for not only the overall quality of their offerings but also for the security features they provide to protect the privacy of your data.
It is important to note that a few of the most popular free online backup services such as Dropbox and Google Drive are not included in this list, due to historic concerns over privacy. After all, entrusting your sensitive data backups to organizations with questionable privacy practices carries with it certain innate risks. If protecting the privacy of your data is important to you, then you are much better off going with an online backup service that works well and takes the necessary steps to ensure your data is kept private and properly secured.
5 best free cloud storage services, a quick rundown
Straight off the bat, these are the best free cloud storage services. Keep scrolling for more information about each of them.
Sync.com - The best free cloud storage, with exceptional privacy and security. Available for all popular platforms and has a generous free plan.
NordLocker - A beginner-friendly free backup service. An easy-to-use free tool for encrypting your hard drive and backing up 3 GB of files.
IDrive - A well-rounded cloud backup service, with first 10 GB for free. A secure cloud backup for all your Windows, Mac, Android, iOS, and Linux devices.
Syncthing - An open-source backup and syncing application that is available for free.
Nextcloud - A highly customizable backup service that you can use with either company or personally-rented server space.
5 best free cloud storage services, analyses
Below you will find an in-depth list detailing each of the 5 best free online backup services on the market today. Each service offers great functionality, and each indeed goes the extra mile to offer excellent security features to protect your data.
Sync.com is the best free cloud storage, privacy and security-wise. It's a superb choice for anyone looking for great user security.
Pros

5GB of free storage
Fully-featured
Doesn't overcomplicate things

Cons

Not entirely free
No linux compatibility
Sync.com is a fully-featured online data backup and syncing service based out of Canada. The "Sync Starter" plan is available for free, allows for up to 5GB of storage space, and never expires. With the starter plan, your data transfer is limited and you only get access to basic sharing and collaboration features, however. Even so, Sync.com makes for an excellent free online backup tool due to its superb functionality and feature-rich offering, and in large part, because it provides the same robust privacy and security features to free users as it does to the paying crowd.

Sync.com is a truly zero-knowledge online data backup service that provides end-to-end encryption, meaning that the service has no way of accessing your data. All of your data is secured with 2048-bit RSA, SSL/TLS encryption. Additional security features include password-protected file sharing, two-factor authentication, along with a remote device lockout feature. On top of that, Sync.com offers data versioning capabilities for up to 30 days with the free plan, allowing you to restore past versions of your data.

Along with several great security and privacy features, Sync.com offers a host of other noteworthy features that also help make it an outstanding free service. First of all, the service is incredibly simple to use but certainly doesn't lack functionality, making it a great choice for newcomers as well as for advanced users. The cross-platform syncing and backups work like a charm, are completely seamless, and are done in real-time. Additionally, you have the option to sync your data only to the cloud with the "Sync Vault" feature. This allows you to store data completely online and save valuable hard drive space on your devices. What's more, on mobile, you can choose to automatically upload photos and videos to the cloud.

The Sync.com online backup service is compatible with Windows, macOS, Android, and iOS. Unfortunately, there is no Linux compatibility at this time, but a web portal is available. We nevertheless fully recommend Sync.com as an excellent free online backup service that truly puts user data security at the forefront.

NordLocker is an easy-to-use free backup. It offers a superb encryption and customizable service that is free-to-use on a limited basis.
Pros

Easy to use
Free 3GB of backup
Full end-to-end encryption

Cons

Doesn't work on mobile devices yet
Free version is limited (but upgrading isn't expensive)
NordLocker is a service developed by NordVPN, and is a powerful tool that anybody can use to encrypt the contents of their hard drive. In addition to securing your data locally, NordLocker also makes it possible to drop files and folders into your 'cloud locker' folder. Doing so will back up the files to the cloud in a completely encrypted state.

Users get 3 GB of backup for free, though you can upgrade that to 500 GB for a very reasonable $3.99 per month. I found NordLocker to be a useful service for anybody who wants to back up data from a Windows PC or Mac. Unfortunately, NordLocker doesn't work on mobile devices... yet. The service is about to roll out Android and iOS apps, however, so watch this space!

NordLocker is the perfect service for anybody looking for a Dropbox-like service with full end-to-end encryption, and the added ability to encrypt the contents of their hard drive to protect their data in the event of device theft. The service even lets you use it on an unlimited number of devices, and can be used to both sync backed-up files and securely share files with friends. An impressive service you can use without paying a dime.

IDrive is a great option for NAS users with robust privacy and security offerings. First 10 GB are for free, and for less than a $4 a year, you get the additional 100 GB of storage space.
Pros

5GB of free storage
Fantastic encryption
Works with Linux

Cons

Not entirely free
If you lose your private encryption key, you could lose your data
IDrive offer a fully-featured free cloud backup service. With the "Basic" plan, you get a generous 10 GB of storage space and also get account credits for referring the service to friends. One of the great things about IDrive is that it allows you to back up an unlimited amount of devices with any single account, while many other services charge for each individual device. Additionally, the File Sync feature allows you to automatically sync all your files and folders, and with the Snapshot and Versioning features you can also store up to 30 previous versions of your data.

IDrive is also very secure, storing and transferring all of your files with 256-bit AES encryption, and allowing you as the user to define the encryption key. This ensures that the key is not stored anywhere on the IDrive servers, meaning only you will have access to the key and, therefore, your data. Important to note here is that this also means that you will be responsible for protecting your private encryption key and you will be unable to restore any data backed up to IDrive if it gets lost.

The service is available on all major platforms, including Windows, Mac, and Linux, and offers mobile cloud backup apps for Android and iOS. On top of that, IDrive is also great for NAS users. Overall, IDrive works great, offers robust privacy and security features, provides excellent customer support, and is quite generous with its 5GB free offering.
4. Syncthing

Syncthing is an open-source backup that's free, simple to use, and works on all major devices.
Pros

Robust end-to-end encryption
Perfect forward secrecy
Completely free!
Open-source

Cons

Initial setup can be confusing
Syncthing is a secure continuous file synchronization program that facilitates syncing files between two or more devices securely. The unique aspect of Syncthing in relation to the other services in this list is the fact that you as the user supply the hardware where the backup is stored. This means that the backup could be stored on a separate computer, hard drive, virtual machine, or any other applicable device of your choosing. This in itself boosts the overall security of the service as you are in complete control of where your data backup is stored and no third-party hosting service gets involved in storing your data.

Additional security features include end-to-end encryption, perfect forward secrecy, along with TLS certificate-based authentication. On top of that, Syncthing strives to be completely transparent and is fully open source, meaning that anyone can freely examine its source code. What's more, the service is also a proponent of open development wherein all bugs and issues with the software are clearly and immediately documented on its "issue tracker" page for anyone to see. Such transparency is evidence of the fact that Syncthing endeavors to be open and accountable to its users for protecting their privacy while facilitating the continuous synching of their data backups.

Syncthing is also very simple to use and is available on all major operating systems as well as mobile compatibility with Android systems. The best part of it all is that it is completely free! Although if you are feeling generous, you can donate to the cause securely on the Syncthing website.
5. Nextcloud

Nextcloud can be as simple or as customizable as you need.
Pros

Open-source
Totally free!
Plenty of features

Cons

Susceptible to Denial of Service (DoS) attacks
Final "stable" version has not yet been released (according to their threat model) - not good for sensitive data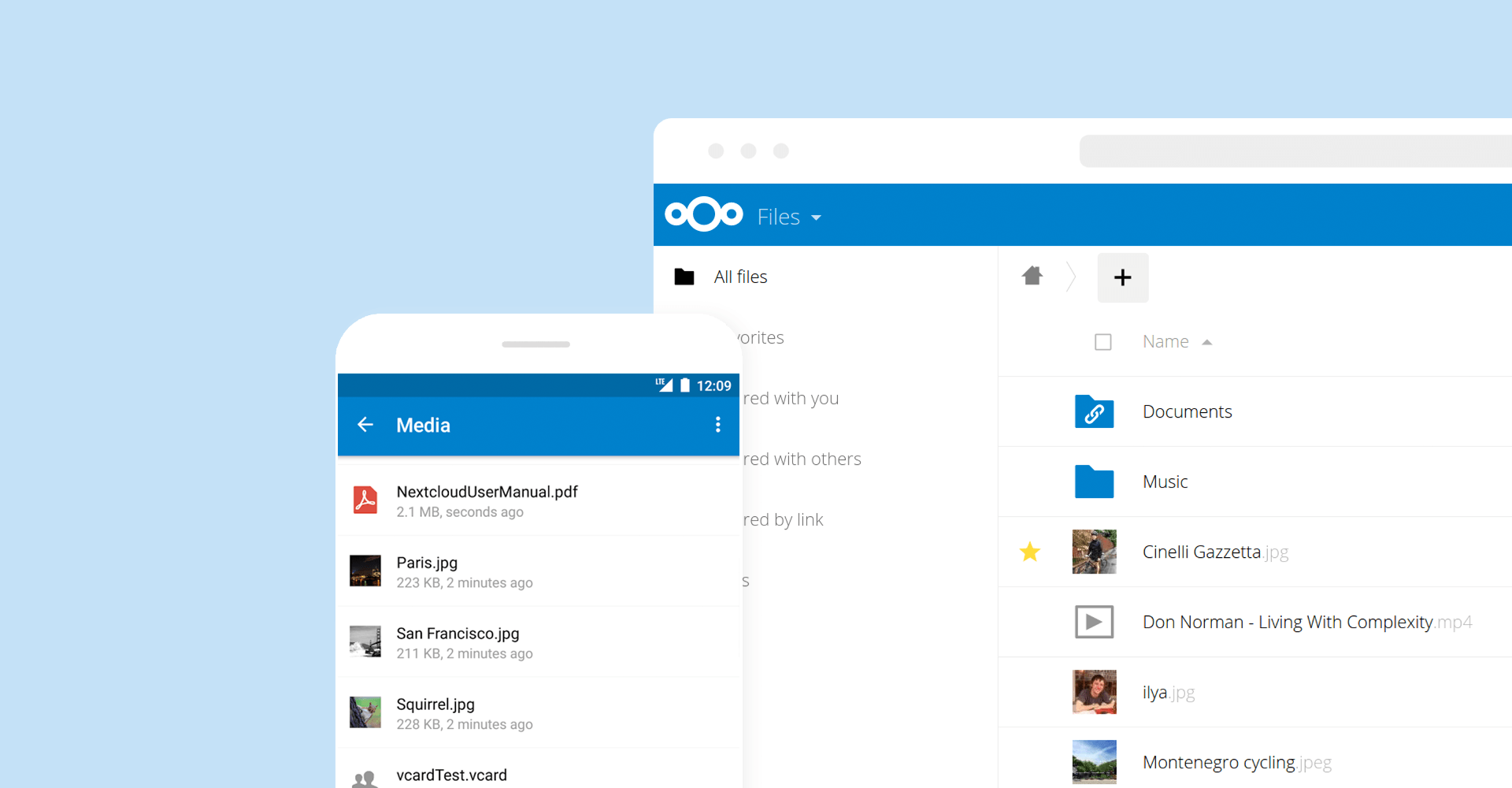 Nextcloud is an open-source free cloud backup tool that offers users both hosted and self-hosted options. This means that you can store your data backups on one of your own devices, on a virtual machine, at a data center, or at a provider supplied by Nextcloud. In the event that you decide to go with the self-hosting option, Nextcloud even offers helpful tips and recommendations on how to get your self-hosted server running securely with the service.

In addition to offering helpful features such as file versioning to save several previous versions of your data, easy file sharing capabilities, media file streaming, and automatic mobile device photo syncing, Nextcloud offers users superb security and privacy features. Nextcloud uses TLS encryption to secure data during transit, and at rest can be secured via 256-bit AES encryption. Files and folders can also be synced between devices and secured through end-to-end encryption, allowing for a true zero-knowledge solution. The service also allows for easy integration with existing security tools. Other notable security features include two-factor authentication, customizable privacy protections for secure file sharing, and a private cloud security scan tool to allow you to check the security of your private server.

Nextcloud is compatible with Windows, MacOS, Linux, and offers mobile apps for Android and iOS. A web portal is also available. Depending on which hosting option you choose, Nextcloud can be extremely simple to use or could be a bit more advanced if you go the self-hosting route. In that case though, the tips and recommendations Nextcloud offers can be very helpful. Overall, Nextcloud is an excellent free online backup tool that puts a heavy emphasis on user security.
Why use a free cloud backup service
Whether you want to back up photos, videos, music, audio recordings, written documents, medical records, emails, or any other media, the sheer volume of precious data that we store on our computers and devices is undoubtedly immense. Losing all of that data can obviously be devastating. This is precisely why backing up your indispensable data in various places is crucial. Should your computer or device crash for any reason and render your data unrecoverable, should you accidentally wipe your hard drive, if your data is erased by a malicious cyberattack, or if your device is lost or stolen, it is of vital importance to have multiple backups of your data so it isn't lost for good.
There are various services available online that allow you to back up your data from your devices to the cloud, with varying capabilities and feature offerings. Indeed, it can be difficult to choose the best one for your own personal needs, that is why we have listed the 5 best in this article.
Final thoughts
Being left high and dry after a data loss can be one of the most frustrating and dreadful feelings in the world. Even if there is a way to recover your lost data, data recovery is never a cheap endeavor, and full data recovery can never be guaranteed. That is why it is essential to have a backup plan... literally. Each of the free online backup services listed in this article is fully capable of backing up your invaluable data in a secure manner, and best of all, at no cost to you. The best time to take action and back up your data is right now, you simply cannot afford to risk losing your data for good. Do yourself a favor and get started with one of the outstanding options listed above.