These are the best ad-blockers for iOS
AdBlock
If you are constantly being bombarded by advertisers, you may want to know how to block pop-ups on your iPhone or iPad. Luckily, iOS supports ad-blocker software! There are hundreds of ad-blocker apps available in the app store, so it can be difficult to know what ad-block app iPhone users should download. In this guide, we list the best iPhone ad-blocker apps and show you how to set up ad-blocker software on iOS.
Best ad-blocker for iPhone and iPad: a quick rundown
We have listed the currently best adblocking apps for iOS users in 2023. These services are mostly free with premium features and work on iPhone and iPad.
Total Adblock - The best ad-blocker for iPhone and iPad devices. Created by an award-winning anti-virus company, TotalAV, it offers all-around protection.
CleanWeb - Surfshark's multi-purpose ad-blocker removes all adverts from Safari before the page displays – including video ads. It is just one of four features of the Surfshark CleanWeb service, which comes free with all iOS VPN subscriptions.
AdLock - The best value-for-money ad-blocker for iPhone and iPad. A trusted adblock application that blocks ads on websites and mobile apps.
AdGuard - The most feature-rich ad-blocker for iPhone and iPad. It even allows you to create custom filter lists and perform system-wide DNS filtering.
AdBlock - The original iOS ad-blocker. It's still very popular among iPhone and iPad users, it's free, open-source, and provides a tailored service.
Best ad-blocker for iPhone and iPad: in more detail
If you want to learn more about the above service, here are more detailed descriptions for each of them.
Total Adblock is the best ad-blocker for iPhone and iPad devices. You get browser extensions for all your devices, and malware and anti-virus protection (with the premium plan).
Free option

Yes

Pricing

Premium: Block Unlimited Ads + FREE Total AV: $2.42/mth

70% OFF

Free: $0/mth

Pros

Effectively blocks most online ads and trackers
Works on all major browsers
TotalAV is included with premium plan
Beginner-friendly service
Blocks YouTube ads too

Cons

Upgrade pop-ups can be annoying (with free version)
Only one subscription plan available
Total AdBlock offers a super efficient and secure Safari extension for all iOS devices. It's a beginner-friendly ad-blocker that's very easy to install and use, after which it removes all types of online ads – such as banners, pop-ups, and notifications. This ad-blocker works great on all your other devices as well, with plugins for all popular browsers, including Chrome, Microsoft Edge, Firefox, and Opera.

Total Adblock blocks persistent ads across the web, but that's not its only advantage. It also takes care of trackers and third-party cookies, so that advertisers get less opportunity to collect your data and potentially misuse it. In addition to that, without ads and cookies, your overall online experience becomes faster and safer.

Total Adblock was created by an award-winning antivirus provider TotalAV, which makes it a trustworthy option. Besides, with the premium plan, you get to use TotalAV for free – a valuable addition to an already great offer. You get a 30-day money-back guarantee as well, so you can try all Total Adblock's products without risking money.

CleanWeb is Surfshark's combination ad-blocker, cookie pop-up blocker, and malware/ data breach-alert service. It's free with all Surfshark VPN subscriptions and easily enabled on iPhones and iPads.
Free option

Yes

Pricing

1 month: $12.95/mth
24 months + 2 months FREE: $2.3/mth

82% OFF

12 months: $3.99/mth

69% OFF

Pros

Blocks cookie requests as well as ads
Easy to enable
Stops video ads in streaming services
Includes alert service for malware and historical data breaches

Cons

No Safari browser extension
Surfshark subscription required
Surfshark's CleanWeb is an ad-blocker and cookie pop-up blocker, as well as a tool for being alerted to site-specific malware and historical data breaches. It's available as part of every Surfshark VPN subscription, and easily enabled for iPhones and iPads within the iOS app.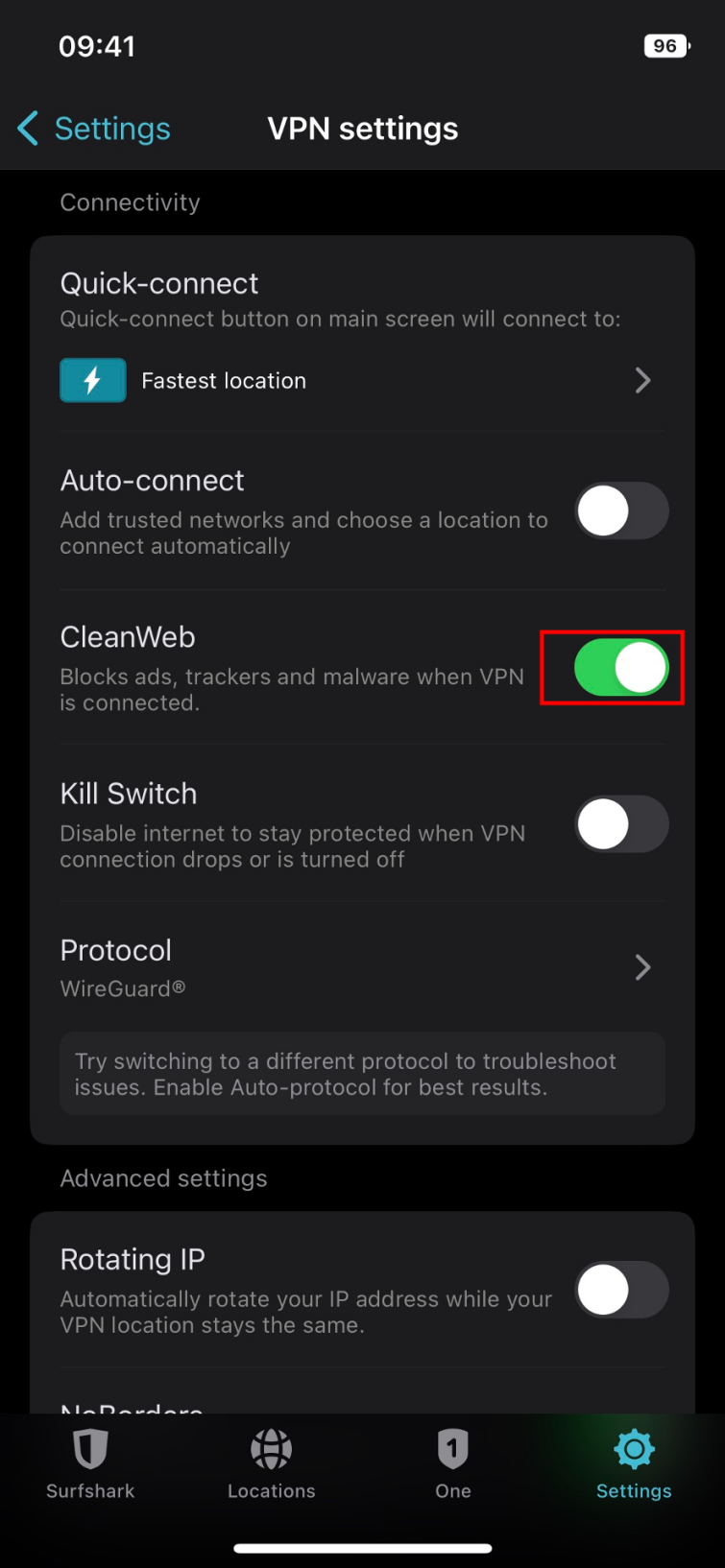 CleanWeb consists of four main features: the ad-blocker, cookie pop-up blocker, data breach alert service, and malware alert service.

The ad-blocker removes all adverts from pages before they're displayed – including the video ads favored by the major streaming platforms.

The pop-up blocker stops cookie requests from appearing when you visit a site. The feature acts in the background to reject any that are possible to reject. Of those that can't be rejected, the blocker only accepts those that are strictly necessary in order to use the site.

The data breach alert tells you if a site you're visiting has ever suffered from a data breach. If it has, CleanWeb provides details of the number of exposed accounts and the date the breach occurred.

The malware detector lets you know whether the site you're visiting has ever been infected with a virus or other malware.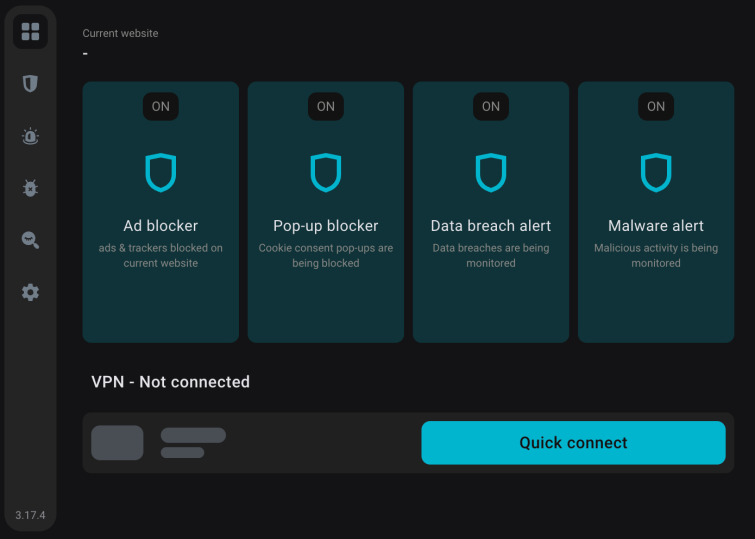 Note that you can still have CleanWeb running in the background even when you're not connected to the VPN.

AdLock is the best budget ad-blocker option on this list. It's a reliable ad-blocker for iOS that provides outstanding service and plenty of customization at an affordable price.
Free option

Yes

Pricing

60 months: $1.05/mth

70% OFF

12 months: $2.28/mth

35% OFF

1 month: $3.5/mth

Pros

Blocks all types of ads!
Covers websites as well as apps
Intuitive customization options
A great budget option
5 simultaneous connections

Cons

Can be battery-draining
Installation can be tricky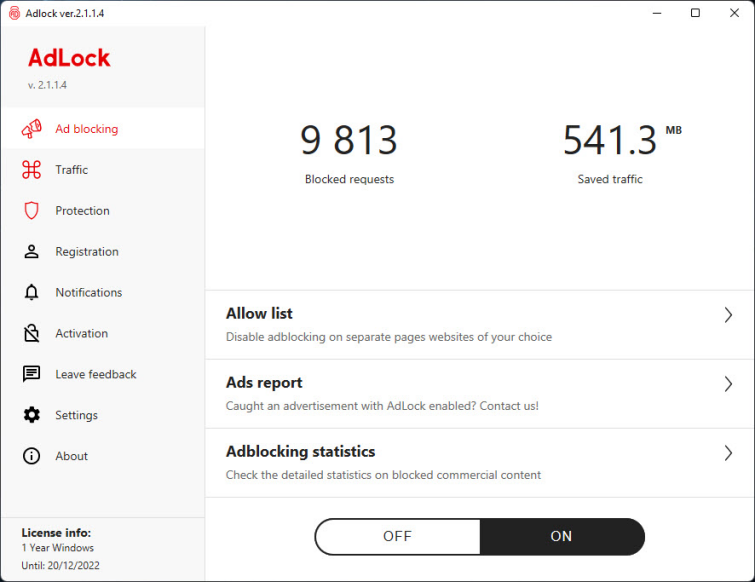 AdLock is a reliable ad blocker that is available for iOS, Android, Windows, macOS, Chrome, and Safari. The iOS version can block ads both on websites and apps, and it can be set up to prevent the loading of annoying scripts such as pop-up chat boxes, for example. A subscription starts at just $16 per year and it blocks all types of ads, malware, and connections to malicious websites. It also prevents trackers to protect your privacy.

Our tests revealed it prevents ads on torrent sites, streaming sites, social media sites, and YouTube. This makes it a superb all-rounder. We also liked that it worked without breaking on-page content such as auto-load videos on news sites. That said, it always prevents advertisement videos while playing games, allowing apps to run more smoothly and without interruptions. It is also good at blocking flashing banners, auto-play ads, timed pop-ups, and unwanted redirects.

Anybody who purchases a plan can use their adblocker on up to 5 devices simultaneously, which makes the subscription great value-for-money. What's more, you get a light and dark theme to ensure you can control the adblocker in the dead of night if you need to (or if you just want to put out those dark vibes). Plus, it does not support the acceptable ads policy, meaning that it blocks all ads mercilessly. You can test it yourself thanks to its 30-day money-back guarantee, and if you have any issues while using it, you can contact its customer support team 24/7!

AdGuard is the most feature-rich ad-blocker for iPhone and iPad. It's a popular choice that is also open-source, trustworthy, and affordable.
Free option

Yes

Pricing

Free extensions: $0/mth
1 yr personal license/3 devices: $29.88/mth
lifetime personal license/3 devices: $59.99/mth
1 yr family license/9 devices: $65.88/mth
lifetime family license/9 devices: $129.99/mth

Pros

Banishes all sorts of ads - on multitple devices and plaftorms
Supports manual blocking
Plenty of filter lists to choose from
Prices are very reasonable
Also offers browser extensions

Cons

The app can sometimes freeze up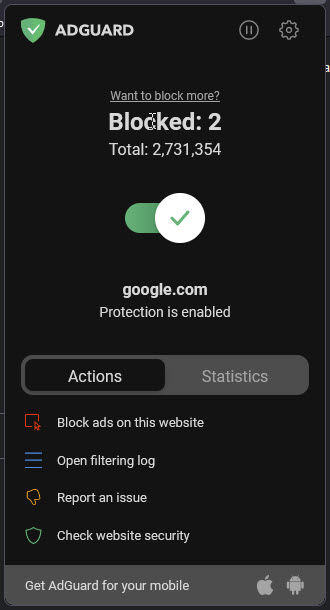 AdGuard is a very popular free and open-source adblocker that also has a Pro version. AdGuard Free does most things you might expect: it blocks ads efficiently and protects your privacy by blocking tracking scripts. You can choose from over 50 popular filter lists, such as EasyList and EasyPrivacy.

An interesting feature of AdGuard is its manual blocking feature which allows you to select elements on a web page (such as an ad it failed to block automatically) and remove them.

Premium users can create custom filter lists and perform system-wide DNS filtering. This is achieved by creating a "fake" VPN connection to any popular DNS service of your choice. Or you can configure your own DNS server. As previously noted, this feature is not compatible with using a regular VPN app.
5. AdBlock

Adblock is the original ad-blocker for iOS, loved by iPhone and iPad users. A free and open-source software with the Acceptable Ads option, which allows you to tailor the service as per your needs.
Free option

Yes

Pros

An easy-to-use option great for privacy novices
Blocks multiple types of ads, including pop-ups and trackers
Free to use
Users can whitelist sites or set custom filters

Cons

Won't catch every single ad you encounter
Adblock is the original adblocker for iOS. In addition to a regular Safari content blocker, Adblock can create a local DNS proxy on your device which performs DNS blocking locally, rather than on a remote server.

In addition to using rules from popular blocklists, you can create custom blocking rules and URL-based blocklists, which you can export and synchronize between devices using iCloud. In order to minimize disruption to your browser experience caused by DNS filtering breaking sites, Adblock supplies a handy widget to quickly enable or disable the DNS proxy.
6. Firefox Focus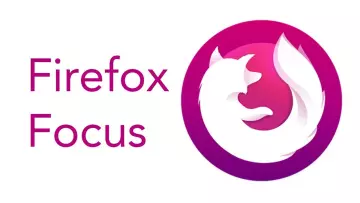 Firefox Focus is the most private ad-blocker for iPhone and iPad. Firefox Focus is a full browser option mostly concerned with tracking protection, but it also blocks ads.
Free option

Yes

Pros

Banishes any trackers you encounter
Users can customize what gets blocked and what doesn't
Forgets your browsing session with one tap
Can be used alongside Safari (or as a replacement)
Toggle stealth mode on/off

Cons

Can be a little sluggish
As a browser, isn't as fully-featured as Safari
Firefox Focus is an open-source browser from Mozilla, makers of the popular regular Firefox browser. It is designed from the ground up to improve privacy, a key component of which is content blocking. Its main concern is tracking protection rather than ad blocking, but in order to provide this, it blocks any ads which track you. Perhaps unsurprisingly, this means it blocks most ads.

Although great for privacy, Firefox Focus has limitations as a day-to-day browser. The most notable of these is that website login details are not saved between sessions. Another is that tabbed browsing is not supported in iOS (although it is in the Android version).

It is possible, however, to integrate Firefox Focus' content blocking features into Safari in the regular way described earlier in this article.
What is an Ad Blocker for iOS?
An ad blocker is a program that prevents adverts from loading on the websites and applications you use. An ad blocker for iOS is simply an ad blocking program that had been optimized to work on an iPhone and iPad, whether as a standalone app or browser extension.
This improves your online experience by removing annoying ads that take up space on your screen, improving page load times by reducing the amount of data that needs to load on each page - and saving you data (and therefore money) when using a mobile data plan.
How does an adblocker work on iPhone?
The term "ad-blocker" is somewhat misleading because while ad-blocker apps do block ads, their most useful function is to prevent tracking scripts from being loaded into your browser, which allows companies to track your movements as you browse the web. This is why they are also known as "content blockers".
Another benefit of ad-blockers is they can speed up page load times because they prevent the browser from loading unnecessary (and potentially harmful) scripts. For the same reason, ad-blockers reduce bandwidth consumption and so are pretty much essential for those with limited data plans. They also claim to save battery life, although we aren't entirely convinced this benefit will be noticeable to the average user.
Why should I use an ad-blocker on my iPad or iPhone?
There are a few reasons why it is a good idea to use an ad blocker on your iPhone or iPad:
Improve your browsing experience. Ads are annoying and will disrupt your experience when browsing the web. They take up screen space, load at awkward times; making you miss the content you are interested in, and cause pages to load slower. They also use up more of your data plan, which ends up costing you money.
Privacy and security. Ads are often accompanied by tracking scripts that help marketing companies to follow you around the web. This allows companies to identify and track you each time you go to their website, or to affiliated websites, services, and apps. An ad blocker can help protect your privacy by blocking these trackers and preventing websites and third-party ad advertising partners from harvesting your data.
Save data and battery life. Ads consume a significant amount of data, eating into your data plan, causing pages to load slower, and even causing battery drain.
Avoid malware and spyware. Some websites not only contain adverts but also malvertising threats that deliver malware, spyware, or other unwanted, dangerous payloads onto your device. An ad blocker can help protect you by preventing unwanted pop-ups and drive-by attacks from loading on the pages you visit.
How to stop pop-ups and ads on iPhone
On desktop platforms and Android, the usual approach to blocking ads is to install an ad-blocker add-on for the Firefox or Chrome browsers. Such as uMatrix, Privacy Badger, and/or uBlock Origin.
iOS being what it is, however, installing an ad-blocker on an iPhone or iPad is not so simple. For a start, thanks to the app store's strict developer guidelines, neither Firefox nor Chrome support browser add-ons in iOS.
This leaves you with one main approach to ad-blocking, use content blocker apps in Safari by installing them and enabling the app in Safari's settings.
To do this, simply:
Go to Settings -> Safari -> General -> Content blockers and toggle yours on.
Content blocker apps can conflict with one another, so it's probably a good idea to enable just one at a time. iOS limits ad-blocker apps to 50,000 rules each, however, so many apps (such as AdGuard shown below) run as multiple processes in order to get around this restriction. In this case, you should probably enable all the processes from a single app.
Handy hint: Ad-blockers can break websites by blocking scripts the sites need to function. Fortunately, Safari for iOS provides a fix for this. Simply long-press the page refresh button to bring up a pop-up dialogue that allows you to refresh the page without any content blockers enabled.